Monday, November 24th, 2008
Winter has come! ! !
DUn-DUN-Daaaaaaaaaaaaaah
It brought snow.
Lots of snow.
We like snow. We don't normally get a lot of it. Not in November, not anytime. Something something sea climate somethine something. Snow invites playtime.
And frostbite. But we're not focussing on that right now.
Snow is the magical white powdery stuff bestowed upon us by the winter fairies.
In these times of globalisation it is becoming increasingly hard for pixies, fairies and other creatures from the magical kingdoms to do their job properly. Big corporations hate these creatures with a passion.
So too the Dutch railways.
In order to get my girlfriend home at 22:00 she would have had to board a train at 15:00. All due to the corporate racism. And the ommision of the small task of checking online for any delays due to work on the tracks
If I could have gotten her to Rotterdam all would have been fine but there's no busses the on sunday. And all my motorized friends were out of town/out of the country/out of mobile network range. Taxi was considered and as I've done it before I know that under normal conditions there is no worries in getting there in 20 minutes for 30-35 euros.
However there was the snow thing.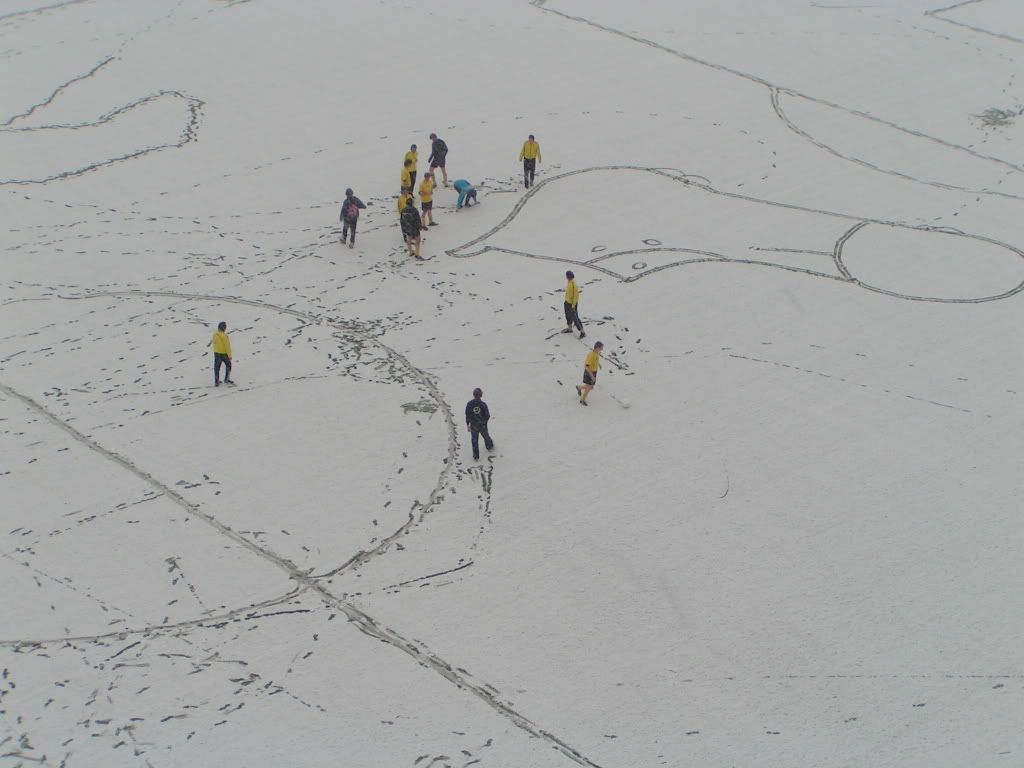 Look at em playing in the snow tracing patterns. Two hours later (the moment our lack-of-travel-story) takes place you can only still make out yellow jerseys going back and forth. Knowing how high the snow is piled up outside I hope they have waterproof socks and some hot-cocoa waiting for them after the game.
The internet reports several kilometres of traffic jams on the highways to rotterdam  . . .
Long story short: Good excuse to have her spend the night.
Well, that is all. I'm euhm . . . going to . . .  euhm.
Yeah, Later. I'm busy right now.
 
 
UPDATE: Due to extended maintenance (Read: winter fairy resistance cell stinging where it hurts) there are no regular trains between The Hague and Rotterdam. Pendel trains stopping at all the intermediate stations are in service.
AKA Raph missed the connecting train in Rotterdam
==========================================================
Quote of the day:
You and me and a branding iron. We will set things right